By Ria Goyal, Ambedkar University, Delhi.
The One Stop Centre Scheme is a centrally sponsored scheme of the Ministry of Women and Child Development, Government of India. One Stop Centres set up under this initiative are to be funded from the INR 1000 Crore Nirbhaya Fund which was set up in 2013 to fund various schemes related to women's safety. These OSCs are meant to provide integrated support and assistance under one roof, to women who have experienced violence in the public or private spheres like family, community or workspace. The violence can be of any kind, including physical, sexual, emotional, psychological or economic abuse, and women are to be provided integrated support regardless of their age, class, caste, education status, marital status, race, and culture. Such support includes access to a range of services like medical, legal, psychological and counseling support. Further, women facing violence in the form of attempted sexual harassment, sexual assault, domestic violence, trafficking, honor related crimes, acid attacks or witch-hunting, who approach the OSC, are entitled to the provision of specialized services.
The OSCs are integrated with 181 and other helplines, through which aggrieved women can be referred to the OSCs. Further, for girls below 18 years of age, institutions established under the Juvenile Justice (Care and Protection of Children) Act, 2000 and the Protection of Children from Sexual Offences Act, 2012 have been linked to the OSCs.
In the first phase of the Scheme in 2015-2016, one OSC was envisaged to be set up in each State and Union Territory, while 150 additional centers were set up in the States and NCT of Delhi in the second phase. The distribution of these additional centers was based on the number of registered crimes, the number of the female population and the Child Sex Ratio in the concerned States. As per the latest official statement by Smriti Irani, 595 One Stop Centres have been made operational in the country, out of the total 728 OSCs that have been approved, and they have helped over 1,90,000 women across the country. The largest number of One Stop Centres are in Uttar Pradesh (75), followed by Madhya Pradesh (51) and Bihar (38).

Source: Ministry of Women and Child Development, 2017
Any OSC will facilitate access to services like:
Emergency response and rescue services for which linkages have been developed with police vans, helpline services, and mechanisms under the National Health Mission to rescue affected women from their location and refer them to the nearest medical facilities and/or shelter home.

Medical assistance wherein affected women are referred to the nearest hospital and examined and/or given medical aid as per guidelines of the Ministry of Health and Family Welfare.

Women are provided assistance in lodging police complaints.

Psycho-social support and counseling over call is provided to women as per the prescribed code of ethics and protocols established for counseling services.

Legal aid and counseling to facilitate access to justice are provided at OSCs through impaneled lawyers. Besides simplification of court procedures for the aggrieved woman, attempts to complete the trial in a time-bound manner are made in earnest.

Temporary shelter is provided to aggrieved women at the OSC. In case of a requirement of long-term shelter, arrangements are to be made at government or NGO managed Swadhar Greh/Short Stay Homes.

Video conferencing facility is provided to aggrieved women at the OSC through which she can record her statement for police/courts at the OSC itself as per provisions of the Code of Criminal Procedure and the Code of Civil Procedure after consultation with the concerned Superintendent of Police and Judge.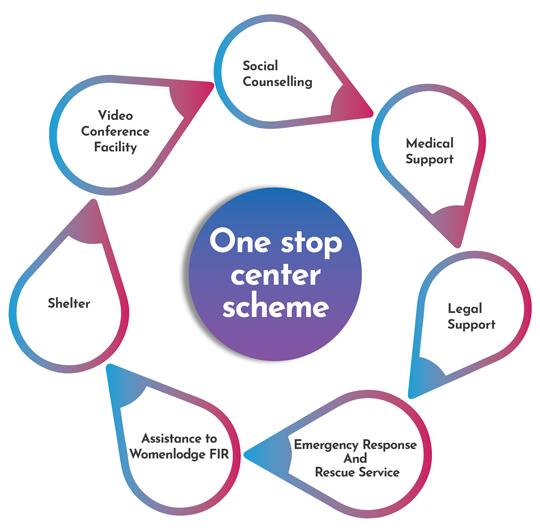 There are proper guidelines and administrative frameworks for the implementation of this scheme. Further, training and capacity building of functionaries is also provided through Master Trainers who are themselves trained through a module developed by the National Institute of Public Cooperation and Child Development (NIPCCD). Besides this, the scheme provides for adequate monitoring and supervision committees and gives each State the authority to constitute a grievance redressal mechanism to ensure the efficient functioning of these One Stop Centres.
Problems in Implementation
However, despite the well-intentioned formulation of this scheme, there have been reports of hiccups in its implementation. In recent years, the government has faced vehement criticism in light of its failure to ensure women's safety and security evident from increasing cases of assault, harassment, and domestic violence. It has been argued that large amounts of money released under the Nirbhaya Fund, and earmarked for various schemes, has remained underutilized and the OSCs continue to lack adequate resources.
Besides being a one-stop provider of essential support services to women, OSCs in their functioning can serve as educational resources for healthcare workers, lawyers, and police officials. However, on-ground reality has shown that women and girls continue to struggle to access legal, medical and psychological support all under one roof of OSCs. Moreover, lack of trained counselors, failure to link centers with women helpline numbers in various States, and a lack of awareness among women have all meant that OSCs' reach has remained limited. Studies have also found that many One Stop Centres have come to operate as centers of marriage counseling when faced with cases of domestic violence wherein the individuals involved are pushed to come to a compromise.
There have been reports of faulty functioning of One Stop Centres especially in the State of Haryana where lack of resources and amenities along with alleged police interference is creating more problems for women instead of solving them. Data has shown that the total number of cases that reach these centers is only about 30% of total crimes against women in the state. Further, as per government guidelines, each OSC is supposed to be located within 2kms from a District Hospital to ensure easy accessibility and ought to be equipped with amenities like telephone, beds, pillows, tables, medicines and clothing for women, besides providing other facilities like medical, legal, psycho-social and police assistance, video-conferencing and temporary shelter facilities. While some OSCs do fulfill these criteria, many others operate out of two-three rooms from within Police Stations or the District Secretariat. Not only are they often inaccessible, being located on the outskirts of the city, but they also prove unhelpful in the way that their functionaries mediate and push the victims of violence to 'compromise' and fail to facilitate justice and psycho-social counseling for the women. Moreover, lack of food and beds, along with a disproportionate male presence in many centers, also forces women to leave after only a few days of living there, without getting the support they needed.
In light of this state of affairs, it is important to strictly enforce regular monitoring mechanisms to ensure that the provisions of this scheme are realized and resources allocated for its implementation are utilized efficiently. This is imperative to enable One Stop Centers to fulfill their mandate of providing accessible support and justice to women who are survivors of violence.