Every year Delhi skies are thick with smog during winters. As the governments, both Central and Union Territory, scramble to control the damage done over the past five years, now will be an excellent time to look at the most recent policy initiatives to assess their impact and effectiveness.
We begin by analyzing Delhi Government's recently announced 10-point winter action plan for air pollution, which amalgamates experiences from previous years to deal with issues like stubble burning, dust, garbage burning, firecrackers, citizen grievance redressal, etc. 
As an alternative to stubble burning, the Delhi Government has been pushing for the adoption of the bio-decomposer developed by the PUSA institute, which does away with the need for stubble burning and improves soil health. The results of studies conducted by the Delhi Government have mainly been promising, and there is positive feedback from the farmers on the ground. However, the bio-decomposer capsules, though cheap, may prove to be water-intensive. One hectare of land needs a solution prepared by mixing 25 liters of water with one capsule. The field also has to be irrigated and ploughed post-application of the decomposer for the process to work correctly. As noted above, the process is precise and needs a lot of diligence- just distributing capsules to the farmers without active hand-holding will not work. Currently, the decomposer is being used on roughly 4000 acres of land in Delhi; for comparison, Delhi has close to 14000 acres under paddy cultivation. To put it in a regional context, Punjab has around 76.65 lakh acres of land under paddy. The use of PUSA decomposer is yet to be scaled up to have a meaningful impact.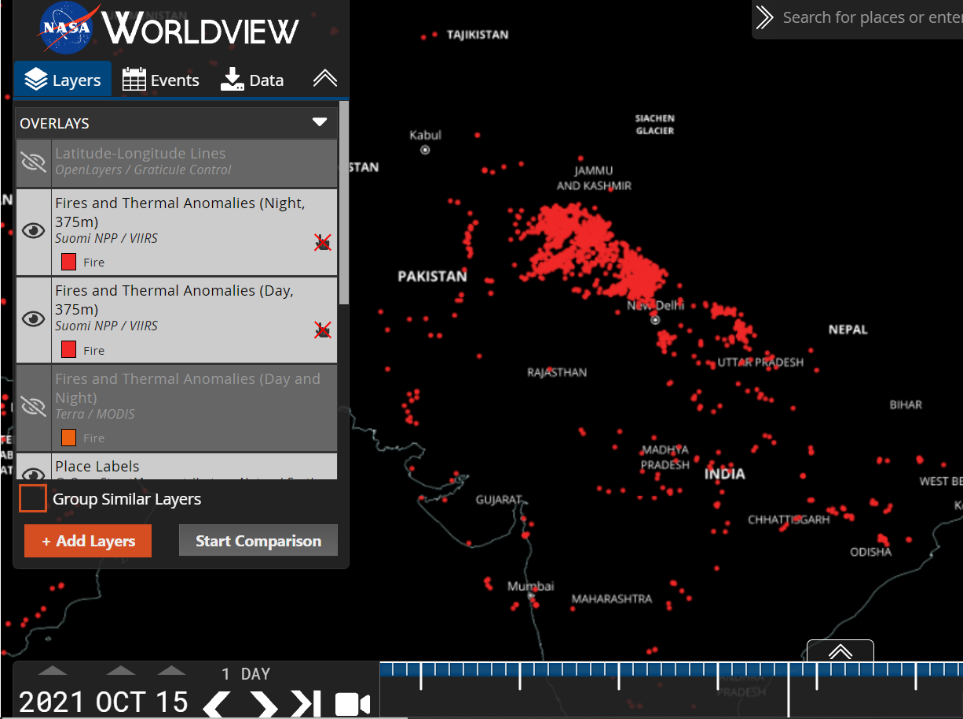 Fires and Thermal Anomalies over North India this October
To combat the increase of pollution around Diwali, a Delhi Pollution Control Committee Directive dated 28th September 2021 prohibits the sale and bursting of crackers in Delhi till 1st January 2022. Similar directives were in place the previous year as well. Without proper enforcement, they had little effect, with AQI levels jumping from 275 on 13th November 2020 (a day before Diwali) to 466 on 15th November 2020 (a day after Diwali). It is important to remember that both Diwali and Stubble Burning are specific period occurrences. Delhi's air continues to be polluted throughout winters, with a substantial contribution coming from other diffused sources like open burning of garbage, mismanagement of debris and dust at construction sites, burning of biomass for heat, etc.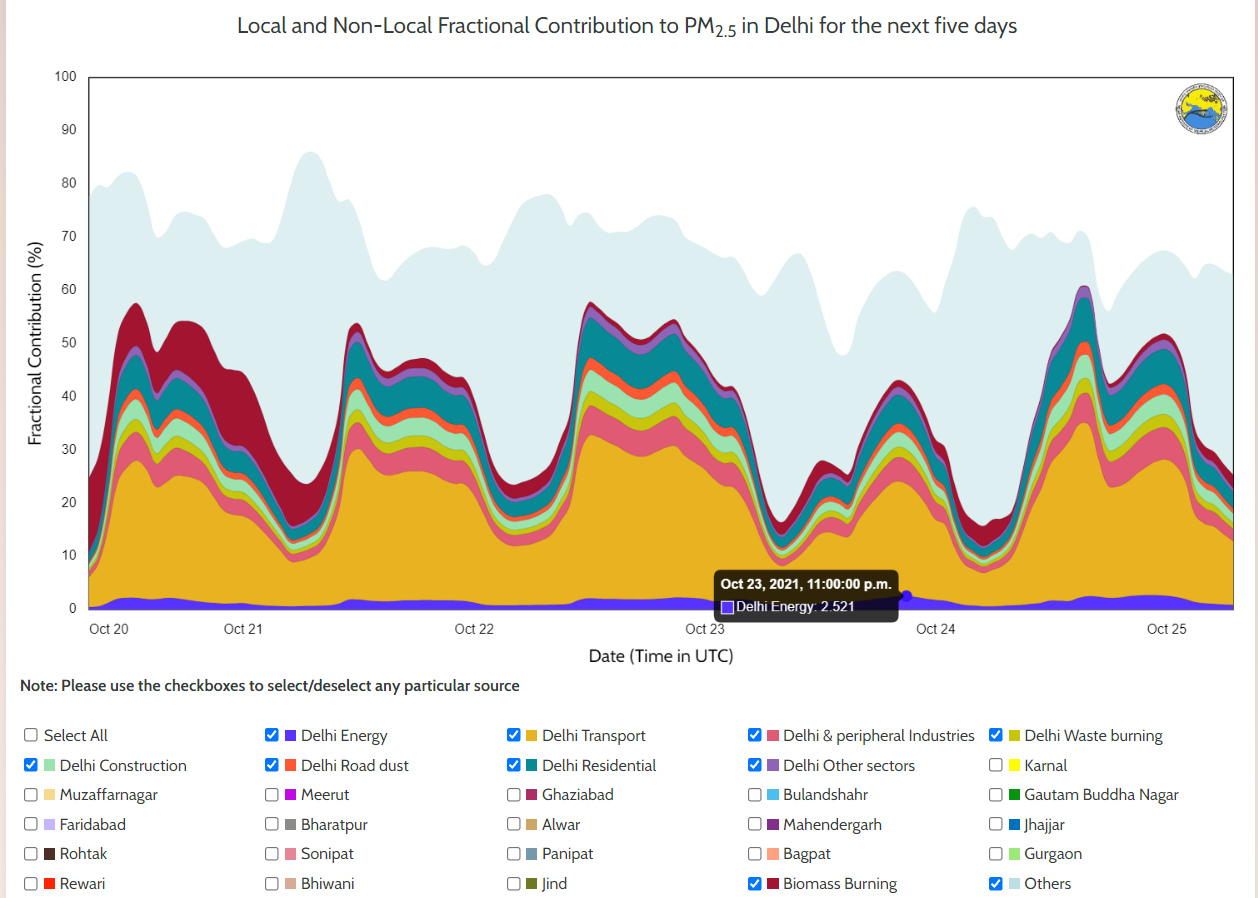 Delhi government's plan to combat the same is a mix of citizen vigilance and enhanced enforcement with the help of teams constituted for different purposes (250 teams to monitor garbage burning and 75 to monitor construction sites). On noticing a violation, concerned citizens can report the same on Green Delhi App. The app has mixed reviews on Google Play Store, with complaints primarily related to technical glitches or non-resolution of complaints. 
An anti-dust campaign is also being run between October 7-29, 2021. The campaign will spot violations and capacity building for implementation of guidelines issued by the Supreme Court and the Commission for Air Quality Management. Delhi Government has also launched a "Dust Control Self-Assessment Portal." However, the portal's tutorial section is not yet functional.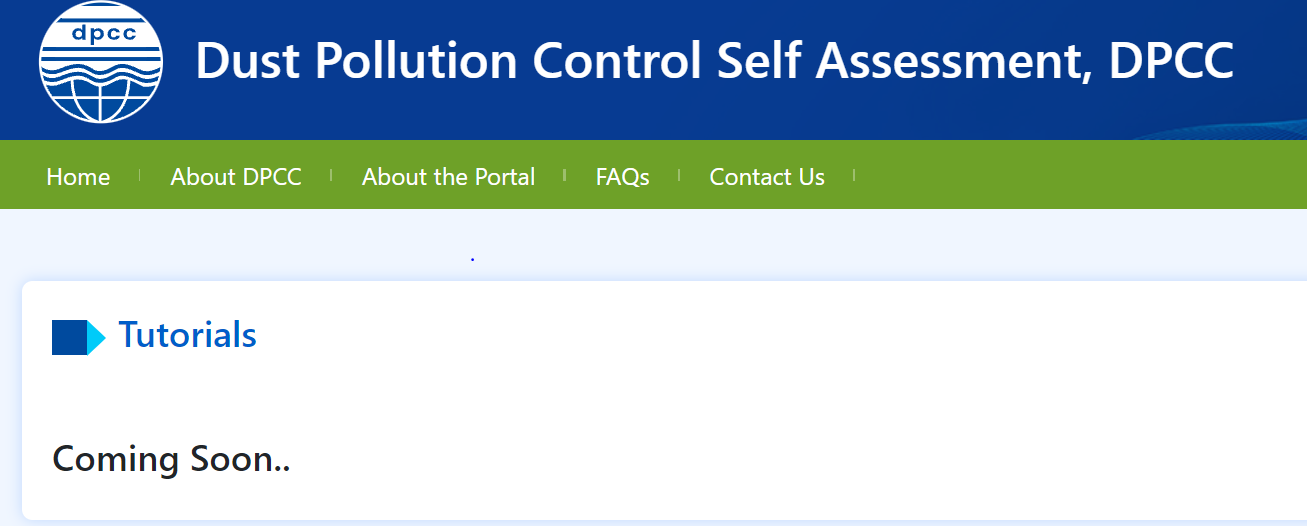 Delhi has two smog towers, at Connaught Place and Anand Vihar, respectively. According to official claims, the Connaught Place tower became fully operational in October 2021 and purifies 80% of the air up to a distance of 1 km. Even at 1 km, smog towers remain at best-limited area solutions, unviable over long distances given the dynamic nature of air. The cost, too, at around INR 20 crores, is prohibitive. If the data coming out of the towers currently operational in Delhi is promising over short distances, they will be of more help if installed in areas with vulnerable populations like schools or hospitals.
Delhi Government has also thrown its weight behind the adoption of electric vehicles to counter vehicular emissions. Within a year of adopting a dedicated policy, the number of EV registrations has increased three times. EV policies and subsidies are often criticized for being skewed towards the privileged, giving them subsidies on expensive vehicles. It is therefore essential to note that the Delhi Government, with its recent move, has brought in a component of equity. Of the recently launched registration for 4261 e-auto permits, 33% have been reserved for women. The government also offers a subsidy of INR 30,000 on an e-auto rickshaw. A policy like this helps make public transport sustainable and aids women's economic empowerment, besides increasing their presence in public spaces, thereby contributing to their safety.
Delhi being the seat of power and the country's capital, is a city of particular concern for the Union Government. The National Clean Air Programme, launched in 2019, focuses on more than a hundred "non-attainment cities" across the country. Though the program has been operational since 2019, Delhi received funds from it for the first time in 2021. A total of around INR 18.74 Crores will be allocated to the city, which is little, given that one smog tower installed in Connaught Place costs the city approximately INR 20 Crores. Besides coordination and support, since a significant component under NCAP is financial assistance, it is yet to have the desired impact on Delhi.
The more critical, region-specific step by the central government is the creation of the Commission for Air Quality Management (CAQM) for the NCR Region. Initially created by an Ordinance in October 2020 and finally constituted through a Bill in the Parliament in August 2021, it is a body dedicated to dealing with the problem of air pollution in the National Capital Region. It replaced the EPCA (Environment Pollution Prevention and Control Authority), and its directives supersede all State Pollution Control Boards in the region. The creation of CAQM has led to apprehensions of overcentralized decision-making. However, it could be an essential step towards a regional airshed-based approach in dealing with air pollution if done right.
CAQM launched a set of directives for construction sites 500 sq m or bigger on 1st October 2021. It also ordered the formation of 38 dust control and management cells. In January 2021, it recommended setting up a Decision Support System to make available micro-level data for decision-makers to address issues in real-time. The Decision Support System, created with the aid of the Ministry of Earth Sciences, went live from October 2021.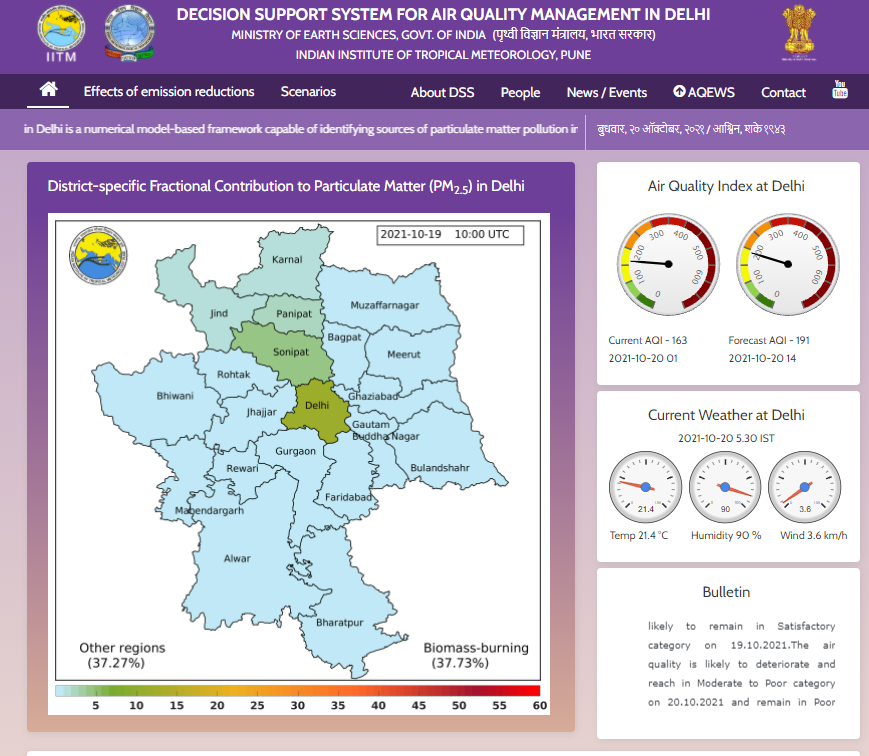 CAQM is also responsible for implementing GRAP (Graded Response Action Plan) in Delhi and has mandated its enforcement from 21st October 2021 onwards. However, it has been discovered that since GRAP only kicks into action after a particular pollution threshold has been breached, it has a limited impact on the AQI levels. 
CAQM has also been actively trying to address the pollution from dispersed sources. In 2020 it initiated a pilot project to deal with pollution emanating from nonpoint sources with the aid of an NGO, Air Pollution Action Group (A-PAG), and South Delhi Municipal Corporation. The learnings from the same are now being scaled up, and standard operating procedures are being developed to be replicated by other municipal corporations of Delhi. If successful, this project can be a great example of stakeholder participation and coordination that CAQM can enable at the ground level. 
CAQM is also tasked with addressing stubble burning at a regional level through coordination between Ministries and States. It has also been advocating the use of PUSA bio decomposer and other means like switching to alternate less biowaste producing crops or varieties of paddy like PUSA 44. CAQM has claimed that the area under paddy cultivation has gone down this year. The amount of reduction it leads to in stubble burning is yet to be seen. Recently released data by Climate Trace shows that in 2020 India was responsible for the highest emissions from cropland fires globally at 12.2% of the emissions. Going ahead, reducing stubble burning will be one of the biggest challenges for CAQM. 

Courtesy: Climate Trace
Both the Delhi Government and the Central Government are actively engaged in dealing with the menace of air pollution. However, governments' initiatives at both levels only pick up pace during winters and don't have the year-round consistency needed for sustainable change. There are also certain policy blind spots- like a particular and sustained emphasis on increasing Green Cover in the capital and surrounding areas is missing. Government policy at both levels could also do with a more participative approach. It is time that the government policy at both levels recognizes the inequality of pollution vulnerability. The government policy assumes that we all breathe the same air, but do we? It is time these facts start reflecting in our decision-making. 
By Tanay Singh Sikarvar, Research Fellow, Climate Justice, LQF